Hello everyone! On Friday of last week, it was one year since I opened the box of the Google Pixel 4a. I realized just how much this phone had surprised me, how much I loved using it, and just how perfect it was. Let's talk about the past year with this phone.
Why I bought the Pixel 4a…
If you followed my blog way back in August or September (if you are one of those people, thank you so much) then you may have known that I used the Samsung Galaxy J7 Sky Pro at that point. Although that phone wasn't bad, it was ageing quickly. After loosing cloud support and the phone crashing every other day, I knew it was time for an upgrade.
I started my research looking for phone two months prior, and although the iPhone SE 2 was a solid option as well as phones from OnePlus and Xiaomi… I discovered that Google made phones, more than that though, these phones had mind-blowing cameras.
I finally discovered some leaks of the Pixel 4a and actually debated going for the 3a sine it was apparent that the phone's launch date was uncertain after being months late. At the time, I saw renders looking something like this: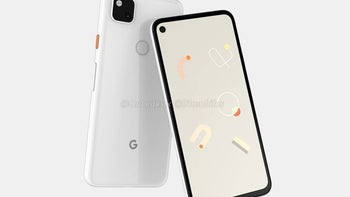 Now, I remember being slightly sceptical since some leaks made the phone's design look pretty bad, but when the phone actually came out, I had zero complaints. I still have the launch email saved (that's how excited I was).
I did wait for a month before buying it because pre-ordering a phone before any reviews come out is not a great idea. To be on the safe side, I did leave it just under a month. Luckily, there were no problems, which not only made me ecstatic, but also revived Google's reputation after battery life issues with the Pixel 4 flagship from a year prior.
I got the phone on September 24th (2020) and ever since opening the box and turning on this phone for the first time, I haven't looked back. If you can't tell, I have really enjoyed using the Pixel 4a this year, and let me talk about some more of the why?
From Samsung to Google:
Despite popular belief, Samsung's phones don't run true Android. They run, from my experience, a buggier, laggier, bloatware filled phones. One main reason Google makes their own Android phones now is because Samsung is hurting Google and Androids reputation. The number of people who have said "Android Sucks" after using a Samsung phone is crazy, and where did they go? A lot of those people ended up with an iPhone in their hands. After a shaky relationship with Samsung, Google released the Pixel 1 and after the phone being moderately successful, Google just continued. What I am trying to say is that Samsung phones aren't running the best software. There is little to argue against Samsung's awesome hardware, but their software… that is a totally different story.
After switching to the 4a, I was mind blown that there were updates to the phone EVERY MONTH! Now, I know that Samsung does that now in 2021, but still not for most of their phones. Even more so, I was amazed that my camera had tons of new updates throughout the year that genuinely made the phone better and better and better. I get that for THREE YEARS! On my J7 Sky Pro, I got less than 1 year.
Cameras:

You cannot argue that Google Pixels take great photos. The odd thing to an outsider is that the hardware is practically ancient and bad in 2021 without help. Even though this hardware is lacking, the software is so magical. This is what actually does the work, and it does it well. Let's look at a photo that I took on this phone one year ago, the day after I got the phone:
I went to the same tree, same branch and took that photo again.
Is it not crazy how different that is compared to last year! But back to the phone and not the tree. If you look closely, you can tell in both the photos that the software did some portrait mode guess work. The fascinating thing is that it is definitely guessing less in the second one. It seems that the lines are a bit more distinct, but there is still a tiny bit of odd blur cuts.
Another well known feature from this phone is definitely night mode. This continues to be awesome and is even better now that you have nighttime portrait mode, introduced over half a year ago now (Apple was quick to copy that 😂)
I continue to adore this astrophotography option. I love that it is all based on you putting your phone on a tripod. It is really cool that this is a feature that mostly hobbyists or photographers would use and likely would be known by the average user.
Video:
Let's briefly talk about video… Google Pixels never had better-than-average video, but Google has improved it. I covered the 8.1 camera update a while back and that brought the big changes, but since then A LOT more little changes have come and I would say that the video quality in good light is good!
I have a short video with photos and videos from the phone as a recap for the past year that you can watch!
YouTube: https://youtu.be/3s9FYvKeEvA
Rumble: https://rumble.com/vn67gl-an-incredible-phone-one-year-later.html
Between the Chincoteague video and Lake Erie video I even noticed improvements to video and those were only a month or two apart. I will continue to say that I love the updates that Google gives for their phones.
Software:
The 4a released with Android 10, but I think by the time I got it, there was only a few weeks before I got Android 11. I'll start by saying that the software is super smooth. This is another misconception about Android phones that come from Samsung's past phones. Across the past year, my phone only crashed once and… it was definitely my fault. I was running the camera, with the flash, sending a live video feed to my computer over wifi, and it was a hot day. Bad idea. All that happened was the phone came up with an overheating message and powered off and back on. It was pretty hot but fine.
I'll also touch on default apps a bit here… The phone comes with the usual Google Docs, Chrome browser and few other core Google apps. That is it. Unlike Samsung, there are no 3rd party bloatware apps or annoying apps being pushed in your face! It is all just there if you want, you can even uninstall most of them (apart from the Chrome browser of course and a few others).
Texting:
With the talk about Android vs IOS messaging security, as of right now, Google does have the most secure texting method across all commercial smartphones right now. For the first time in years, it is securer than IOS's is. I love the messaging experience, but wish that it was the same across all Android phones. Again, this is mostly a Samsung issue with their Samsung Messages. The best messaging experience is of course with other Google Pixel phones (or phones in the Android One Program). It works as IOS messaging works, you can react to texts with emojis and it is done all over internet. What is really cool are the featrues likes sharing your location, and having quick switch to a duo call from a phone call. I just love these features but since not a ton of people in the East Coast US (at least where I live) have a phone in the exclusive Android One Program. If you are curious about what phones are in that program, I'll link it here… Any phones from this list are probably decent options. The program has phones from Nokia, Xiaomi, LG (RIP), Moterola, Google (of course), and quite a few more.
Pros:
Now, I'll just quickly mention out the pros and cons… Let's start positive with the pros.
Software is awesome.
3 Years of guaranteed Android updates.
Awesome cameras.
Perfect battery.
Nice to hold, size.
Cons:
Now, there are just a few things that aren't perfect…
No HDMI output… this is odd since you can do a live video feed out but the HDMI element is not in the phone… the idea is to have it done completely over cast.
No desktop OS like dex. I heard other Pixel users complain about that after leaving Samsung's ecosystem.
Microphones are not great.
Those are the two minor things that I can think of right now. About the mics… I actually don't mind the mics not being perfect because the phone may have the best third party mic support ever. If I hook the same mic up to my camera and phone, the phone records better quality audio. I think that is just really strange but awesome at the same time.
Google:
I want to quickly talk about why I bought a phone from Google, the company constantly "spying" on us.
Google genuinely makes awesome phones.
The Made-By-Google product ecosystem is connected but not intrusive. You are not forced by the ecosystem, and there is support for other ecosystem integration.
The high quality matte anti-fingerprint finish on phones and other devices.
Environmental consciousness: Google Pixels are made with recycled plastics, the company is investing into environmental research, and the company operates with renewable energy.
Google's price balance: the price of a lot of Google products can range from low to high. Google is even trying to make a phone that costs under $200 if not $100 in India.
I have actually become a big Made-By-Google fan and what started with just a Google Nest Mini Speaker, turned to the Pixel 4a, to the Google chargers and adapters, to the Google Chromecast with Google TV, and I love every single product, how it is thought out and how they are seamless together but still awesome without the other device!
I am not saying that Google is the only company doing these things, I am just saying, they are just one of a few major companies doing it for the right cause and not publicity.
Conclusion:
So, to end off… Is the Pixel 4a still good in 2021??? Absolutely, and 2022 and beyond. Of course, now that the 5a is out, you can look at that for a bit more money to get 5G, an ultrawide camera, and a bigger battery, but you would still probably be just as happy with the 4a's capabilities. If you do have $1000 to spare, wait for the Pixel 6 because it is going to be a BIG phone and for those of you who can afford that, good for you, it may be one of the best Android phones ever.
Thank you so much for reading today's post and watching the vid! I really hope you enjoyed! Let me know what your current phone is in the comments, I am really interested in knowing! While you are in that vicinity on blog… maybe just brush by like button and misc lick the follow. 😉
Have an awesome week! Also, happy October!
-Digital Wonders & Smiles